Supporting our dairy clients
NZ Farmers Livestock (NZFL) are here to service all of your marketing and selling needs.

We offer superior support and services for both buying and selling livestock via an on farm clearing sale, MyLiveStock.co.nz, paddock sales or through our Saleyard network.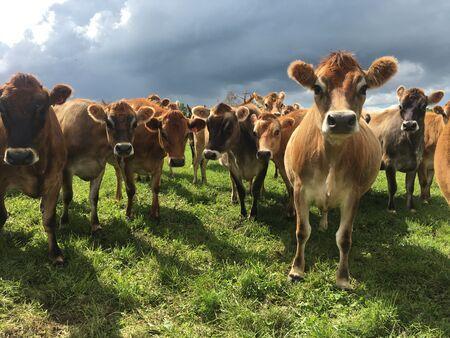 Marketing your Dairy Cattle
Our sale services provide:
Personal calls to prospective buying customers by our livestock personnel and a portfolio of potential buyers compiled. We are strong believers that the agents are a critical part of ensuring a successful sale whether in the paddock or at auction with the knowledge they have.
NZFL are actively seeking out new ways to leverage promotion and advertising options via digital channels. We use a combination of newspapers, radio, as well as web based promotion through MyLiveStock, social media and emails to make sure you get full coverage of your stock.
If going to auction, we compile and distribute catalogues to potential buyers, agents and our national distribution network. Our extensive list of farmer clients not only through our agents but also via MyLiveStock which has been operating for over 20 years and is renowned for its reputation. We also offer direct mailouts to all our farming clients which has proven to be hugely successful.
Clearing sale set up – selling rostrum, seating, layout and flow is critical to running a professional and successful sale which will enhance attributes of your dairy stock and create a friendly and relaxed atmosphere where buyers feel comfortable in the sale environment. We are committed to setting up a safe environment for all those involved.
We know that pre-lotted through clear cataloguing is the key to success and is a proven draw card to purchasers. Clients know what is entering the ring in advance, right through the sale, as every cow is lotted making focusing on what the purchaser is after so easy, trying to stay focused from start to finish in a non pre-lotted sale is very difficult. Pre-lotting takes a lot of time and expertise, but we believe is the secret to success as stated in our client's references.

* All members of our team are proud to offer our online auction platform to live stream sales directly from on-farm auctions, allowing bidding online, nationwide, in real time. The platform provides the ability for farmers to virtually attend and participate at sales without leaving their farm. It also offers an auto bidding functionality which has proven tremendously popular, giving farmers a level of flexibility they've never experienced before.
We are the only company to offer the ability online to operate on the pick or a selection of cows which we believe is absolutely critical in obtaining the highest value for your stock. NZFL have had buyers from all over NZ buy online that have said they would not have gone to the sale because of distance/time/costs etc but could operate online for their selected animals.
We stand by the service of experienced and knowledgeable NZFL staff to support you in the running of the sale.
Auctioneering
Our staff know how critical it is to have a dedicated team of excellent auctioneering professionals. The level of professionalism and skill offered by our auctioneers cannot be challenged. Our auctioneers are put through training schools to ensure their skill set is second to none.
Contracts
NZFL already has a significant share and specialist knowledge of nationwide dairy herd sales. Our Dairy Forward Contract protects you as a vendor or purchaser throughout the whole deal and beyond. It is constantly reviewed and updated to keep up with the changing dairying environment and has stood the test of time. It is one of the only contracts that has an individual calving date clause and also an excellent eczema warranty to name a few. It is critical that these contracts protect both vendor and purchaser.
Sole agency
We are committed to working hard for your best market price. Our knowledge and credibility in the industry is second to none – it is not only your sale but our reputation as well to run a professional and successful sale.
Finance
NZFL has short to medium term livestock finance available. NZFL can arrange funding for all your needs whether financing calves, cows, bulls or any other stock, and acceptance can be approved within 24 hours. Terms and Conditions Apply. To find out more about our financing offer, visit further information
here
.
What our clients say
Jim and Linda Meed
Farm sold, buildings emptied, and all the cows sold. We are so thankful for the work NZ Farmers Livestock have done to make this possible. We had an auction here on the farm. The staff of NZFL were very efficient setting up and the place looked very professional with a sale ring, auctioneers stand and a large canopy of the sale area. They had plenty of quality staff sorting out the stock... the whole day went without a hitch. People commented on how easy the catalogue was to follow. NZ Farmers Livestock made a difficult time for us as easy as it could possibly be, and we are very grateful for that. I would highly recommend anyone contemplating selling their stock to contact NZ Farmers Livestock, and you can be assured they will do their very best for you.
Graeme and Bronwyn Chick
We found the process of winding up our farming operation of over 40 years difficult and the thought of holding a clearing sale was stressful. We were well supported by NZ Farmers Livestock throughout. Our agent's calm and knowledgeable manner supported us and helped to make the process as comfortable as we could expect. NZ Farmers Livestock is to be commended.
Christine McNiel and Family
The team at NZFL organised the whole process of our stock sales at our farm and were extremely helpful and professional throughout. They achieved a positive result for us on the sale day and were there late into the night ensuring the stock were sent to their appropriate new owners. We are so grateful for the work the team did for us. We feel they went above and beyond in what was a highly stressful and emotional time for our family. We would highly recommend.
Scott & Maree Bixley
Anybody buying cows on a Forward Contract should seriously look at buying cows off NZ Farmers Livestock, as their contract is extremely comprehensive and covers more than any contract I have signed before and it does work for you as proven in our case. It's good to see that their motto of "Working with Farmers for Farmers" is a true statement
Previous
Next